Hungary's Secret University: SZFE-Students in Budapest fight for autonomy
Students and staff of the The University of Theatre and Film Arts Budapest (SZFE) are protesting against the takeover of the institution.
Four figures are standing still on a ledge of a building in central Budapest, their poses compelling in their sereneness and quiet resolution (their faces covered by masks, since all of this is happening on the backdrop of a global pandemic). The building is adorned with numerous hand-written banners: a large one behind their backs says: "Kiálunk az egyetemünk szabadságáért (We stand up for our university's freedom) #freeszfe". The hashtag #freeszfe, derived from the acronym of The University of Theatre and Film Arts Budapest (Színház- és Filmművészeti Egyetem, SZFE), has been popping up on pavements, walls and custom-made yellow masks around town in the last couple of months.
International support
Hollywood stars and several culture and literary personalities, including Salman Rushdie, Cate Blanchett and many others, have posted selfies with a raised hand and the #freeszfe hashtag scribbled on their palms. On October 23rd, the anniversary of the 1956 Hungarian revolution, around 30 000 protesters silently walked through the streets of Budapest in support of #freeszfe, borrowing the slogan –
Szabad ország, szabad egyetem
– Free country, free university – of the 2012 education reform protests. Subsequently, this slogan appeared at the teacher's protests and the protests in support of Central European University (CEU), which has since relocated to Vienna.
What the conflict is about
The history of SZFE dates back to 1865. It is thus the oldest higher education art institution in Hungary, having many alumni with illustrious careers, such as Academy Award (Oscar) winners Vilmos Zsigmond and Géza Röhrig, and iconic directors such as Béla Tarr. Early July this year, a law was passed about the handover of the university to a private foundation run by a new management appointed by the ministry. This structural change has taken place at other Hungarian universities, and the artistic ones are supposed to implement this as of January 2021. In the case of SZFE, this was moved to September 2020.
Máté Gáspár, former head of department and tutor, was one of the first to resign from SZFE in the wake of these changes:
"In August, instead of introducing themselves and starting dialogue, this board rewrote the university charter as well as the organisational and operational rules without any preceding negotiations. The Board of Trustees, the highest decision-making body and the University Senate (which represented all university citizens), was taken over by the new board without including any university representatives. In response, the entire hitherto management of the university resigned and the students began a blockade. This dispute has been going on since September 1."
The new board is run by head of the National Theatre Attila Vidnyánszky who appointed former army officer Gábor Szarka as a chancellor and includes members that are not only from the world of theatre and film, but also oil . "It's an incredible political game from the very first moment," Vidnyánszky said in an interview with Origo.hu, claiming Amnesty International is apparently helping the student blockade. Later, in an online discourse organised by European Parliament's Committee on Culture and Education, he claimed left-wing political parties were fuelling it. In another interview, he mentioned he would like to incorporate themes such as "nation, home and Christianity" into the university curriculum. These themes have also been championed in the National Theatre under his leadership, and as such are more or less in sync with Orbán's illiberal, or as of late, "Christian democracy".
Inside the blockade
Students occupied the university building on Vas street in downtown Budapest until the new coronavirus restrictions forced them to move the blockade online. They developed a complex system of task-management, discussion forums held inside the occupied building, as well as at other institutions. "There are permanent guards and solidarity 'guards' composed of former students and teachers as well as representatives of other institutions who take 30-minute guard shifts on the roof of the Vas street building," (this lasted until 30 Sept) says Bálint Antal, a 5th year theatre directing student at SZFE.
"There's a timetable for each day, and inside there's a proper guard that prevents the members of the new board from entering the school. At the entrance, we measure the temperature of everyone who enters the building as well as do other disinfecting procedures. Inside, there are forums happening every night, sometimes these are purely student ones, other times also with the presence of teachers and other university staff  where we discuss how to proceed without chaos and anarchy. Besides this, there are also working groups which organise the university blockade happenings, but there's also a "hygienic working group" which is responsible for disinfecting, there's a storage working group for instance that focuses on storing donations and, if there's too much, we pass it on."
The Academic Republic
An autonomous academic system has developed (often called tanköztársaság in this context, which translates as something like "academic republic"). "There's a communications working group, an internal documentation team: there are probably more than 100 such working groups. In addition, tuition is taking place as far as the epidemic situation allows. There are classes that are not affected – despite all the undermining by the newly appointed leadership – we can incorporate other classes into activities around university blockade, but there are also online classes. Organising a 15,000-person protest often requires similar organizational skills to staging a performance (a chorus rehearsal, for instance, could be focused on the songs that are then performed at the blockade happenings, actors learn complex press releases then communicate them to the public). Some kind of cooperation has developed between the university occupation and tuition. We've also launched courses that students from other departments can join: film classes can be attended by theatre students, and vice versa – that has been an old dream of ours."
Each day has an agenda that includes that day's activities, classes, discussions, press conferences, forums. The day starts around 10 a.m. and lasts until 2 or 3 in the morning. Students have been shooting a film about the happenings.
Free university
As the handover of the university leadership on Sept. 30 approached, tensions between the blockade students and the new board increased. On Sept. 30, hundreds gathered in front of the building to support the student community. The stalemate continued even after the new body had officially taken office – the chancellor repeatedly tried to enter the building, in vain. The Internet was shut down on several campuses of the university and the lock on the Ódry Stage, which housed the discussion forums, was changed, and on October 16, everyone was urged to leave the building and vacate the dormitory. Students refused to leave the building, saying the measures were not only illegitimate but also illegal. The students announced a demonstration on October 23, the anniversary of the 1956 Hungarian Revolution (also started as a student demonstration). "We want to create a free, autonomous university community where no one is forcing their opinion on the other, where we don't expect anyone to make sacrifices, but we also don't forbid it. If everything remained as it is, we would live happily ever after. Of course, this will not happen. One way or another, illegally or covered by laws, it will be intervened."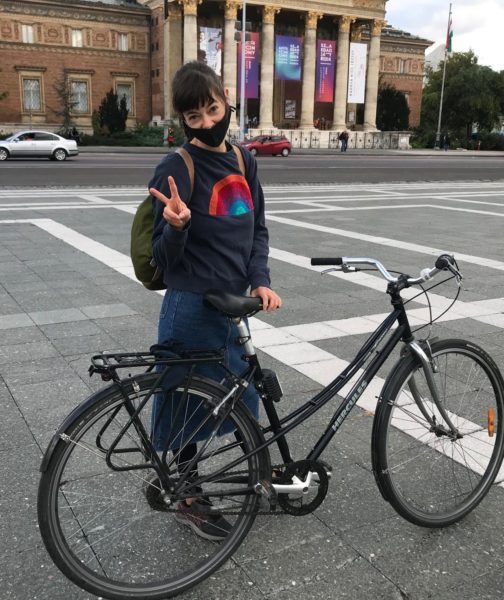 Read the transcript
I'm expressing my solidarity with SZFE students and teachers. This issue has been dragging on for several weeks now. I have utmost respect for the students who said that they are not willing to start the new academic year this way because they reject the governing body that has been pushed on them. I believe that effective education can work when teachers are able to exercise freedom and are allowed to teach and work as they want. The government is centralising everything, and decides what should be taught, what books should be used, and this is not ok. It's necessary to stand up against this, and that's why this is also happening today.
A wave of solidarity
Máté Gáspár highlights another perspective. "There is a young generation that is not only able to voice what it doesn't want, but it also expressly states what it wants.  By showing how it wants it every day, on a democratic basis, with respect and empathy towards each community member, with extensive discussions, forums and creativity, while informing the public and incorporating them in the discourse, offering a platform to do so. And many are joining them. This has triggered an unprecedented wave of solidarity. People feel they want to join for a number of reasons, be they professional, generational, societal or political." says Gáspár, who besides academia, has been involved in the NGO sector, running a foundation that focuses on capacity building of Roma leaders. "What is happening now with Gábor Iványi [the president of the Hungarian Evangelical Fellowship, which lost their status and sources of funding, threatening their charitable activities – homeless shelter and school] has brought these two worlds together: the most vulnerable, homeless and the Roma, and the university community are not so far apart as it may seem. These communities can act together, if there was a desire or courage to do so."
On Friday, October 23rd, thousands of people from all sorts of social strata and generations took to the streets of Budapest in silence with their torches lit. They ended their walk near the university campuses. The FreeRomaGroup sang the Ej, a titkos egyetem (The secret university) song that has become the sonic symbol of the student protests. A day before the protest, in a surprising move, one of the government chief advisors, Zsuzsanna Gabriella Hegedüs, practically voiced her support for the students' fight for autonomy. It was not only student representatives who spoke on stage, but also representatives of the Hungarian Trade Union Confederation, the Teachers Union, as well as healthcare representatives who protested the law on the employment status of healthcare workers. "We stand up for our cause, but we don't see ourselves as some sort of revolutionaries," explains Antal. "But at the same time, if everyone fought for their rights, a lot could be achieved. The rights of many people in Hungary have been violated. A lot of organisations, radios, newspapers, universities, research institutions have been affected. It's crucial to realise that this is not healthy."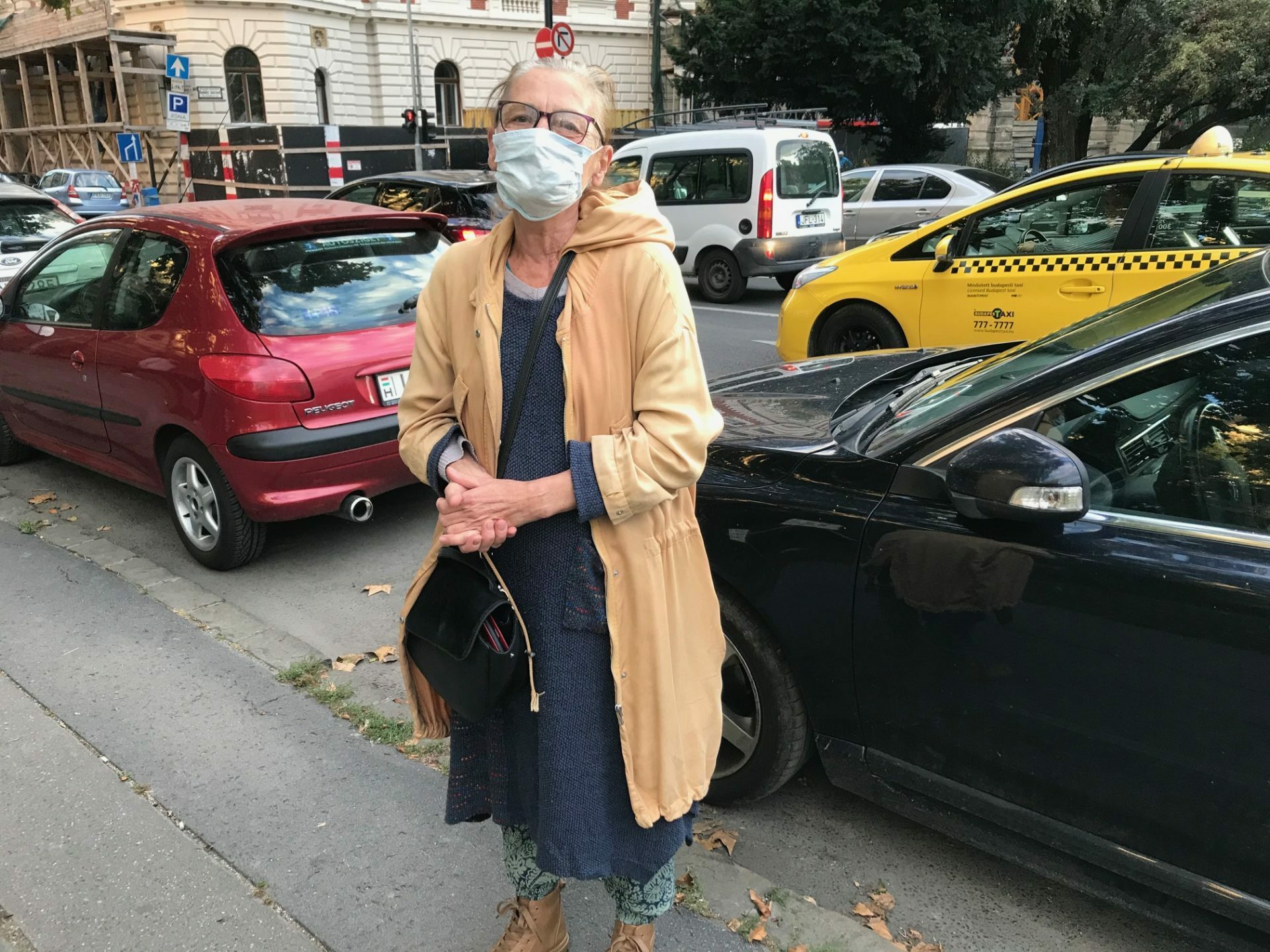 Read the transcript
We're at Kodály körönd, at the gathering of the SZFE students. It's totally justified, as you cannot take away a university's autonomy. It's not about the youth rebelling against the system, they only want to keep the university's autonomy, and that's what's being taken away from them now, and this is what's awful. I'm a pensioner, but hats off, what they are doing is fantastic, and amazing that they have the courage to do this. It's incredibly beautiful. I'm not the youngest, but from my peers everyone stands behind them. I haven't met anyone who wouldn't say it's a miracle what these kids are doing, young adults actually, who know what they are doing. Viktor Orbán was also the same age when he stood up and spoke up.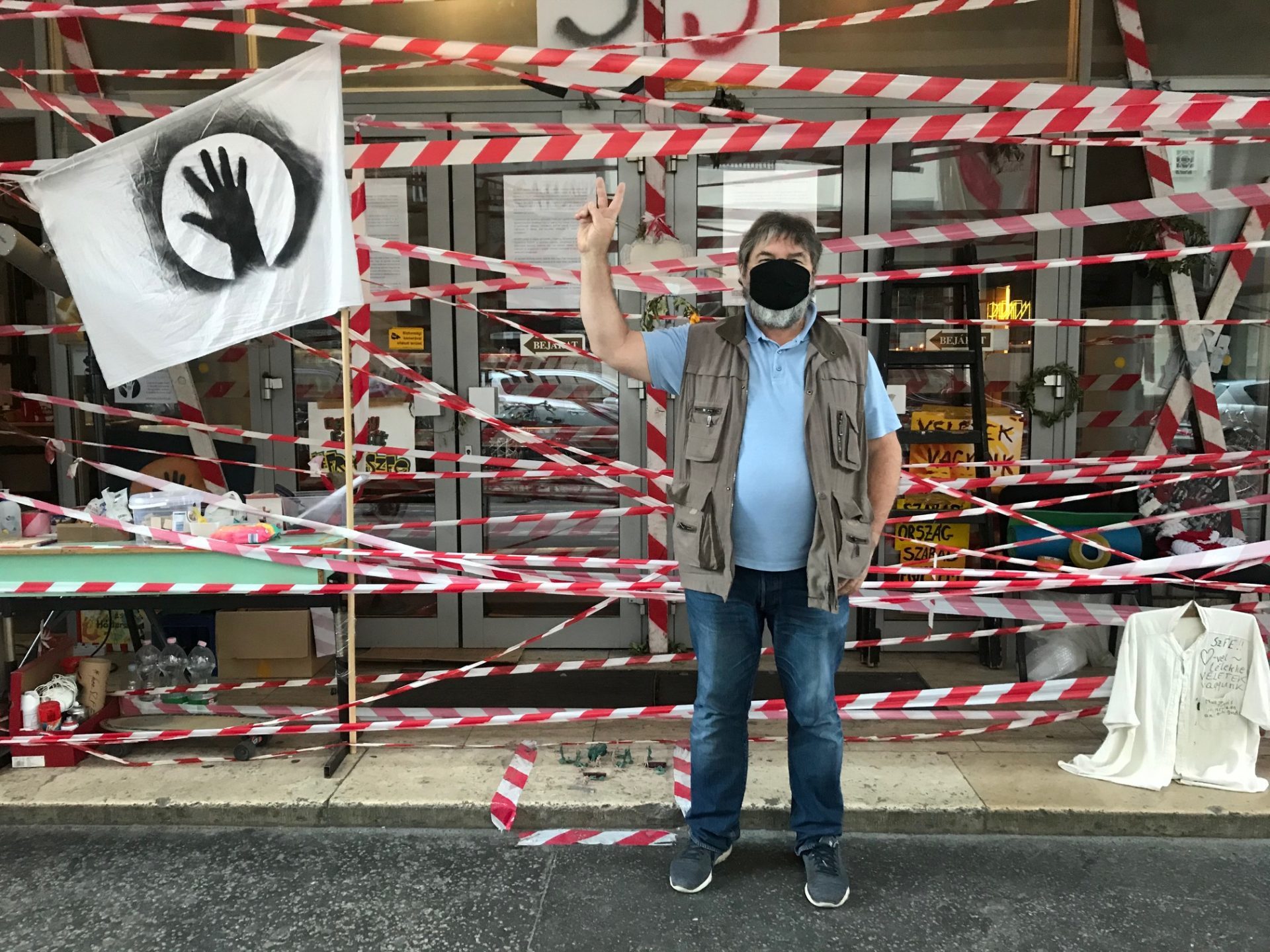 Read the transcript
I'm a pensioner, a former teacher, part of culture, let's say. SZFE is currently one of the last bastions of culture, and that's why I feel I have to support it. We've been coming here from Day 1 because I've felt that I need to be here every day. Now one friend of mine, who would like to stay anonymous, gave me 100,000 forints [around 275 euros] to spend on a noble cause, and we both thought to use it for this particular cause. I'm trying to use it effectively. Every day there's a list of items that are needed by students who are protecting their independence. I'm happy that there's a place that is willing to stand up to such brutal political pressure. Something from the past has returned, under a new guise. Politics has put its hand on culture with every tool (banning or destroying literature, etc). Unfortunately these former Eastern European states were not able to cherish freedom and realise that freedom is a big opportunity that we got after 1989. It seems as if they were pining for dictatorship, and this ugly dictatorship has been smuggled back. I haven't got much left to lose, but these kids do, and they have a future to change or win so they can live in a free country. For a long time we also couldn't live in a free country until the fall of the Iron Curtain and it wasn't much fun. We didn't think there would be something worse. Thirty years ago, for a few years, we thought we got rid of it and we have cultural, mental, religious freedom, but it's not the case, there's less and less of it.
As of early November, students have been occupying the university for more than 60 days.  While the fate of their winter semester hangs in the air (the new board suspended tuition until early February, citing the inability to enter the building and to verify the proper functioning of the facilities and education), they invited László Palkovics, Minister for Innovation and Technology, to the Vas street campus for a meeting on 11 November, which he declined. On 10 November, the students announced they would be leaving the campus in response to the new government restrictions related to the coronavirus pandemic, and moving their classes online. "We won't give up the blockade, but we'll take it with us. We are the university. The blockade will last until the repression of the people in power stops."